Perfect for KS1
Help commemorate 200 years since the birth of Florence Nigtingale with a workshop from The History Van. Using hands-on activities, artefacts and games the children discover about health, hygiene, medicine and superstition in times past.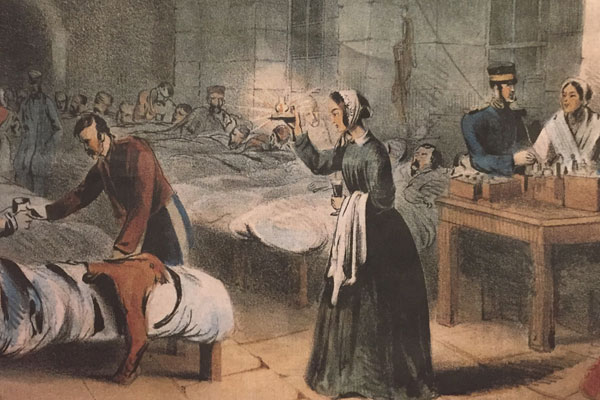 Your children will be involved in lots of activities during the day:
They meet Mrs Shore, who is Matlock-born Florence Nightingale's Grandmother and lived in Sheffield.

They train as nurses, winding bandages, washing and ironing bed sheets and packing a medicine basket of home remedies.

They make 'cures', using herbs, pestles and mortars.

They discover superstition, play games based on local beliefs and make herb bags to ward off illness.

They 'set sail' for the Crimea and help Florence Nightingale cure wounded soldiers, role playing soldiers and nurses in the hospital in Scutari, with lots of artefacts to help clean the ward and tend to the patients under Florence's guidance.

They use dip pens to write letters to Lord Sidney Herbery asking him to send supplies to Scutari.

They return home to the local Spa Towns of the Peak District and Turkish Baths of Sheffield to discover the value of Hydros & Spas – the latest Victorian medical wonder-cure.

They use hammers and Sheffield tool makers' punches to make cutlery as a thank you gift for Florence.

They prepare a 'Welcome Home' ceremony for Florence and discover her impact on the history of nursing.

They also discover other people working on public health issues at that time, including Mary Seacole, Edwin Chadwick and John Snow.
Schools booking for more than 1 class will be provided with teacher-led activities for use when they are not with Kathryn, so that all the children are involved throughout the day.
Prices: £190/£295 for half/full day plus £30 for each extra class plus travel expenses – please enquire to discuss exact costs – thehistoryvan@gmail.com
Florence Nightingale Classroom Topic Boxes
Topic specific books, chosen by you to be used in your classroom throughout your topic. Available to rent or to buy outright, please get in touch to discuss your classroom needs. All books are available to view and purchase here.